African Safari Games

We can't actually take you on a safari in Africa, but these safari games may be the next best thing. Here you can play a number of free online African safari games from safari adventure games to wildlife photography and we've also thrown in some safari puzzle games as well as some animals and memory games for younger kids. The top destinations for those going on safari in Africa are Kenya, Tanzania, South Africa, Botswana, Zimbabwe, Zambia, Namibia and Gabon. However Uganda, is rapidly becoming one of the best safari places to visit not least because areas like the Queen Elizabeth National Park is largely underdeveloped so you get the real, raw safari experience whereby you can sit on top of jeeps enjoying the wildlife, rather than been cooped up in a small van from where you can only observe the safari animals through windows. After you've played these African safari games why not check out the Africa Animals website here and find out much more about the animals of Africa including observing them in their natural, safari park habitats with LIVE webcams?
---
---
African Safari Games: Coconut's Safari



This African safari game is quite cool, especially for younger kids who want to learn about Africa and its wildlife. Gain points by taking great photographs of African wildlife whilst out on safari.
---
African Safari Games: Savannah Animals



This African safari game is good for younger game players as they need to identify if the creatures that appear on the Africa savannah are mammals, birds, reptiles or insects. Some of the creatures are quite fast moving so you'll need to be quick!
---
African Safari Games: Safari Puzzle



This safari puzzle will keep you busy for a while. It's one of those puzzle games where you have to move the blocks around the screen until you have matching pictures of a lion, elephants and an antelope, three animals often seen on safari whilst in Africa.
---
---
African Safari Games: Safari Memory



This Diego's African safari game is a memory game for kids that's just like most online memory games. You have to click on an image to see the animal that's behind then click on the other images until you get a match.
---
African Safari Games: Hidden Animals



This is another hidden objects game where you are on the look out for hidden safari animals located in various African safari scenes. As ever you get points for identifying and clicking on the correct animals in the picture.
---
African Safari Games: Safari Webcam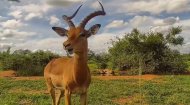 We might not be able to take you on a safari, but probably the next best thing is to visit this live streaming safari webcam at our sister site where you can see all the main safari animals from a nature reserve within the Kruger National Park in South Africa.
---
---